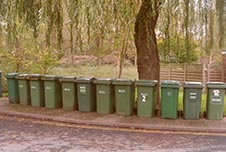 Recycling rate now above 60% target
Residents have helped boost the annual recycling rate in the St Albans District to its highest ever figure of 62.1%.
The rate for the 12 months to the end of March this year is significantly higher than the previous year's 59.6%.
It is also ahead of the ambitious 60% target set by St Albans City and District Council – and well above the overall recycling rate for England of 44.8%.
The improvement could now put the Council among the top ten recycling local authorities in England.
Currently, the Council is 13th in the table of around 350 councils with a new table due to be published later this year. 
During the past year, the District's recycling rate – as measured by weight – exceeded 60% in every month but two. The highest monthly figure was 66.5% in May 2018.
The amount of non-recyclable waste collected by the Council for landfill fell during the year by 1,723 tonnes (8.3%) to 19,203 tonnes.
Around 480 more tonnes of material were recovered for recycling. This was partly the result of Council campaigns to improve the rate in lower-performing areas.
Another cause of the increase was a policy to encourage more recycling by refusing to collect side waste.
That is waste left out with the brown landfill bin which research shows has more than adequate capacity for the non-recyclable waste produced by a large family.
Another initiative has been educating the public about how their food waste is processed at a facility near London Colney to produce energy and fertiliser.
This has included free tours of the site as well as a series of talks to community groups.
Among the materials recycled by the Council during fortnightly collections are food, garden waste, paper and cardboard, glass, plastic, cans, textiles, batteries and small electrical items.
Details about last year's recycling figures were given to a meeting of the Council's Cabinet on Thursday 25 April.
Joe Tavernier, the Council's Head of Community Services, said:
We are delighted with the substantial improvement made to our recycling performance over the last 12 months.

Increasing the rate to 60% and beyond is one of the Council's priority projects and it is very encouraging that we have achieved that figure.

We could not have done so without the active support of our residents who have responded very positively to our campaigns and initiatives to recycle more.

Our focus will now be in improving the recycling rate in flats where there is a high turnover of residents and often as consequence of this, a low awareness of our recycling rules.

We still want to see more food waste recycled. Also, we will be promoting our new service that allows for an additional garden-waste bin to be collected every fortnight.

Along with our waste contractor Veolia, we will be working hard to achieve these goals and raise the recycling rate even further in the year ahead.
To see the report and other Cabinet papers, go to: stalbans.moderngov.co.uk/ieListDocuments.aspx?CId=117&MId=8651.
To book a tour of the Anaerobic Digestion facility near London Colney where the District's food waste is processed, go to: bit.ly/2DxaWzE.
For details about the subscription service for additional green bins for garden waste, see: www.stalbans.gov.uk/environmentandwaste/garden-waste-subscription/.
Contact for the media:
John McJannet,
Principal Communications Officer,
St Albans City and District Council. 
Tel: 01727-296130 
E-mail: john.mcjannet@stalbans.gov.uk