Sustainability and Climate Crisis Strategy
Share your views with us
As you will see further down this page, we have been working hard to reduce greenhouse gas emissions from our operations and services, as well as across the District where we have power to do so.
Over the summer we will be thinking about what we need to do in coming years as we prepare our 2024-2026 Sustainability and Climate Crisis Strategy and Action Plan. 
We would like to hear your ideas about what we can do to continue making an impact and how we can get more people involved. 
Please take a few moments to answer our short survey at: https://www.smartsurvey.co.uk/s/CN2UBX.
Our Sustainability and Climate Crisis Strategy sets out all the actions we plan to take over the next 3 years, to reduce our environmental impacts, improve the environmental sustainability of our operations and services, ensure we are resilient to changing environmental conditions and act as a strong community leader to ensure action continues to be taken across all parts of our community.
The document sets out how we plan to begin reducing our emissions to Net Zero by 2030, focusing on the following core themes: 
Governance and Leadership    
Energy Use    
Transport and Air Quality
Waste
Nature and Sustainable Food
Climate Change Adaptation and Water
You can download the document below.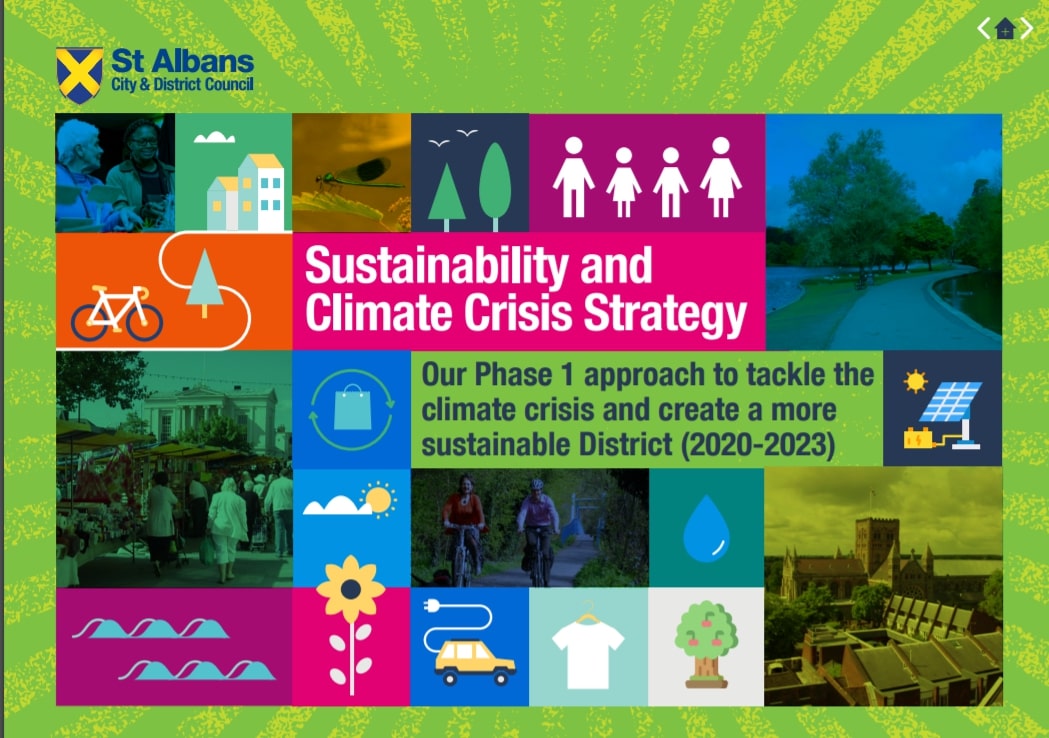 Our headline achievements so far:
Governance & Leadership
Sustainability News sent to registered recipients.
Climate Advisory Group established.
We participate in Hertfordshire Climate Change and Sustainability Partnership.
Council staff complete a Sustainability Impact Assessment before starting all new projects or making large purchases.
All staff receive basic training in sustainability and some managers have received training in climate change science, mitigation and adaptation.
In partnership with Sustainable St Albans we provided training and engagement to 22 groups and businesses; trained nine Climate Champions who have engaged a further 192 people and delivered four pop-up events in Batchwood, Sopwell and Cunningham Wards.
Energy Use
St Albans Home Energy Support Service provides energy efficiency advice to all households regardless of income.
600+ households installed Solar PV through the bulk purchase Solar Together scheme.
Over £1M funding won to support private households to have energy efficiency measures installed.
£10m Social Housing Decarbonisation Funding was used to improve the energy performance of 1,050 social housing properties. A further £9.7m was added from the Housing Revenue Account.
Green Homes Deal funding was received to raise the energy performance rating at 45 social housing properties.
GoldenI technology will be trialled in 50 social homes to remotely monitor temp, humidity and use of heating. This will help to demonstrate the benefits of insulation and renewable heating and help identify causes of damp and mould.
Council-owned streets lights have been replaced with LED.
Lighting converted to LED at Verulamium Museum
Solar PV and air or ground source heat pumps, added to new developments at Jenny Lane, Noke Shot, The Hedges and Holyrood Crescent
Solar PV and renewable heat assessments underway for Sandridge Gate Business Centre and Verulamium Museum.
Solar PV installed to Westminster Lodge, District Offices, Batchwood and Cotlandswick leisure centres.
Transport & Air Quality
Enterprise Electric car club in place and available for Council staff and the public to use.
14 further electric vehicle charging spaces installed.
EV car charging installed (or due to be installed) at new developments in Jenny Lane, Noke Shot, Cottonmill Community & Cycle Centre, and CCOS South.
SADC will take ownership of 2 existing HCC owned chargers on Council land.
Taxi policy in place to gradually reduce the emissions from licenced taxis.
Cycle to Work (tax-free bike purchase) scheme introduced for staff.
Emissions-based parking introduced to incentivise moving to low emission vehicles.
Council staff are equipped to work remotely, thereby reducing travel emissions. All staff now regularly attend virtual meetings instead of traveling.
Electric street cleansing vehicle and JCB purchased for service contracts.
4 electric vehicles and 1 hybrid vehicle used on the Grounds Maintenance contract.
Sustained improvements to air quality mean we are applying to revoke 2 out of 3 Air Quality Management Areas.
Waste & Recycling
Achieved highest recycling in the country.
Office recycling for cans, plastics bottles, food containers and films, cans, paper, card, electrical items, glass bottles and jars.
Plastic free action plan in place. Plastic bottles, cutlery, food containers and plates no longer permitted at Council street events.
Waste and recycling guide produced and sent to all new residents when they get their first Council Tax bill.
Climate Change Adaptation & Water
Water bottle refill fountain installed to Verulamium park near the running track.
Climate Change risk register completed and actions integrated to team service plans. This includes ensuring water efficiency measures included to new developments and shading included to public areas where possible.
Climate change adaptation training provided to key managers.
Nature & Sustainable Food
3,608 trees planted in our open spaces.
3,057 trees and whips planted in 2020/21.
7,646 trees distributed to the public.
33,668 m2 meadow created.
Biodiversity audit looked at where we can increase biodiversity in all open spaces and significant highway verges.
10 sites, making up 50,000 m2 were selected for wildflower seeding in the last 2 years.
Wilder St Albans project delivered 200 actions across the community including 31 ponds and 1 hectare of grassland created, 5 ponds improved for wildlife and 101 volunteers involved.
Supported the development of 3 community food growing and wildlife gardening spaces by Incredible Edibles and Grow Sopwell.
42 swift bird boxes installed, including the District Offices.
Glyphosate-free streets trialled involving 90 people who manually weeded the streets.
Flower beds are now planted with a perennial seed mix to reduce need for replanting each year and excess watering.
Installed bespoke peregrine breeding tray on St Albans Cathedral.
You can view our ore detailed progress reports below.  
Support our Sustainability and Climate Crisis Strategy
It is our hope that local businesses, organisations, schools, organisations and groups will recognise the scale of the task required and support our strategy by developing their own plan of action to improve the sustainability of their day-to-day activities. 
We invite you to email us a link to your own sustainability strategies so that we can learn about what you are doing to help create the healthy, low carbon and sustainable future we all aspire to. 
The following local organisations have pledged to support our strategy by committing to do all they can to become carbon neutral by 2030 and championing sustainability across the community.  
Sustainable St Albans
Plastic Free St Albans
St Albans Friends of the Earth
Sandridge Parish Council
Wheathampstead Parish Council
Citizens Advice St Albans District
If you would like to be listed as a local supporter please use the contact us button providing information on your activities and any action plans.
If you would like to get involved with local events groups and meetings about environmental sustainability, please visit our Getting Involved page.