Sustainability and Climate Crisis Strategy
Our Sustainability and Climate Crisis Strategy sets out all the actions we plan to take over the next 3 years, to reduce our environmental impacts, improve the environmental sustainability of our operations and services, ensure we are resilient to changing environmental conditions and act as a strong community leader to ensure action continues to be taken across all parts of our community.
The document sets out how we plan to begin reducing our emissions to Net Zero by 2030.
The document focuses on the following core themes: 
Governance and Leadership    
Energy Use    
Transport and Air Quality
Waste
Nature and Sustainable Food
Climate Change Adaptation and Water
You can download the document below.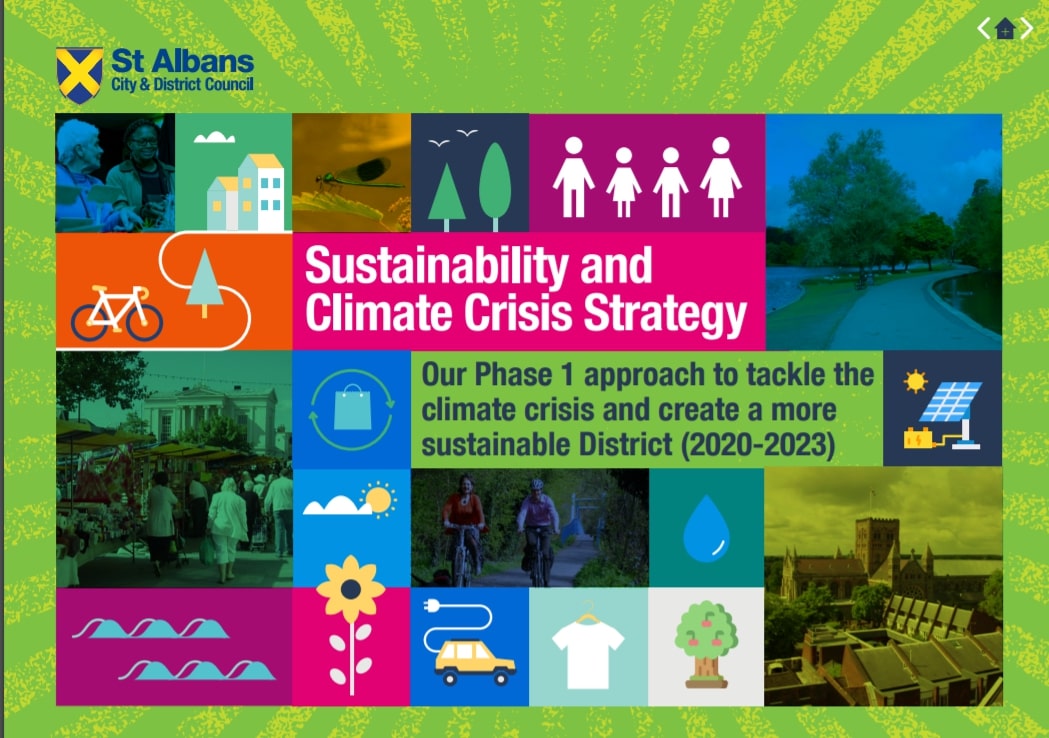 What have we achieved so far?
All electric vehicle car club coming to St Albans Spring 2022
Energy audits of our largest buildings and Solar PV surveys now complete
Solar Streets Scheme is installing solar panels to local households
Rewilding scheme has commenced in partnership with Herts and Middlesex Wildlife Trust
Electric vehicle charging to be installed in Westminster Lodge and Harpenden Leisure Centre Redevelopment
We are tracking our progress against the actions in the strategy on a monthly basis to make sure we are keeping on top of our commitments. You can view the January 2022 Sustainability and Climate Crisis Strategy Progress Report below.  
Support our Sustainability and Climate Crisis Strategy
It is our hope that local businesses, organisations, schools, organisations and groups will recognise the scale of the task required and support our strategy by developing their own plan of action to improve the sustainability of their day-to-day activities. 
We invite you to email us a link to your own sustainability strategies so that we can learn about what you are doing to help create the healthy, low carbon and sustainable future we all aspire to. 
The following local organisations have pledged to support our strategy by committing to do all they can to become carbon neutral by 2030 and championing sustainability across the community.  
Sustainable St Albans
Plastic Free St Albans
St Albans Friends of the Earth
Sandridge Parish Council
Wheathampstead Parish Council
If you would like to be listed as a local supporter please use the contact us button providing information on your activities and any action plans.
If you would like to get involved with local events groups and meetings about environmental sustainability, please visit our Getting Involved page.