Decision making, the constitution, overview and scrutiny
Decision Making
The Full Council
Full Council is made up of all 58 Councillors (members). It has the role of setting the annual budget, overall policy framework for the Council and adoption of changes to the Constitution.
The Cabinet (the Council's Executive)
Cabinet's role is to make decisions which are not the responsibility of any other part of the council. It is the make decision making body of the council, except for regulatory issues and matters concerning the constitution, budget and policy framework.
Cabinet must work within the budget and policy framework set by the Full Council.
Its seven members each have an area of responsibility (portfolio) about which they make day-to-day council decisions.
Notices of executive decisions must be published 28 days before the decisions are taken.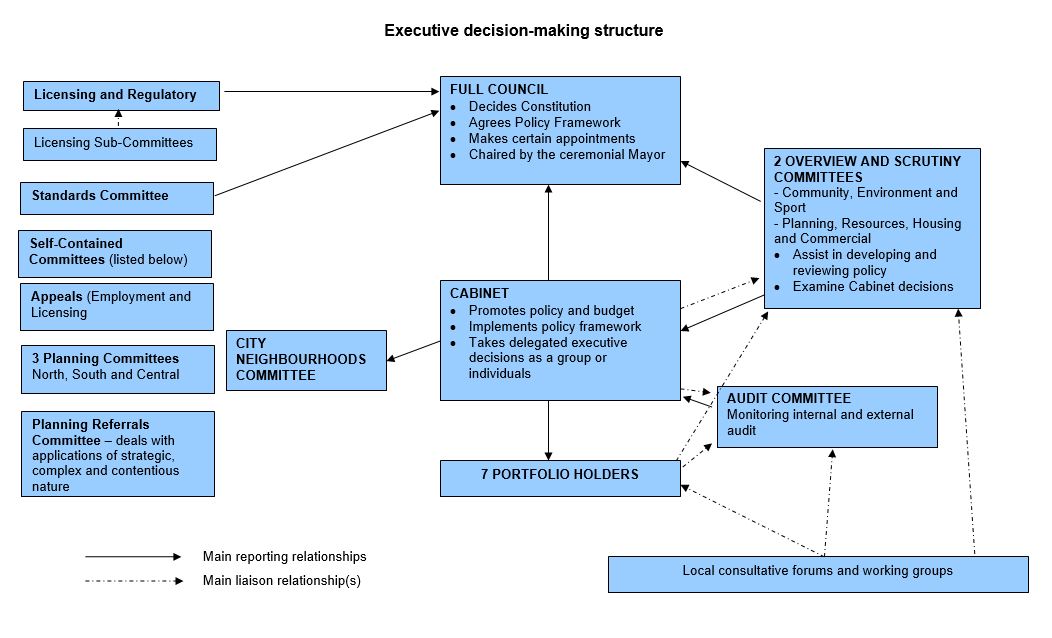 The Constitution
The Constitution sets out how the Council operates, how decisions are made and the procedures that are followed to ensure that these are efficient, transparent and accountable.
Overview and Scrutiny
There are two Scrutiny Committees who support the work of the Cabinet and the Council: the Planning, Resources, Housing and Commercial Scrutiny Committee and the Community, Environment and Sport Scrutiny Committee. The Committees take an overview of all the activities that the council is involved in and can decide to examine in depth (scrutinise) particular issues.
Reviewing policies, making suggestions for change and improvement and examining decisions made, are key aspects of Overview and Scrutiny. They can also 'call-in' a decision that has been made by Cabinet, but not yet implemented. This enables them to consider whether the decision is appropriate. They may recommend that Cabinet reconsider the decision.
Anyone can suggest a topic for Scrutiny to consider via email to: scrutiny@stalbans.gov.uk.
Community Safety Working Group
The Community Safety Working Group discusses priority issues in the Community Safety Plan. It reports annually or as needed to the Community, Environment and Sport Scrutiny Committee.
Annual Reports of the Council's Two Scrutiny Committees can be viewed here
Reports of Scrutiny Reviews undertaken in the past 5 years can be viewed here