Decision making, the constitution, overview and scrutiny
Decision Making
The Full Council
Full Council is made up of all 58 Councillors (members). It has the role of setting the annual budget, overall policy framework for the Council and adoption of changes to the Constitution.
The Cabinet (the Council's Executive)
Cabinet's role is to make decisions which are not the responsibility of any other part of the council. It is the make decision making body of the council, except for regulatory issues and matters concerning the constitution, budget and policy framework.
Cabinet must work within the budget and policy framework set by the Full Council.
Its seven members each have an area of responsibility (portfolio) about which they make day-to-day council decisions.
Notices of executive decisions must be published 28 days before the decisions are taken.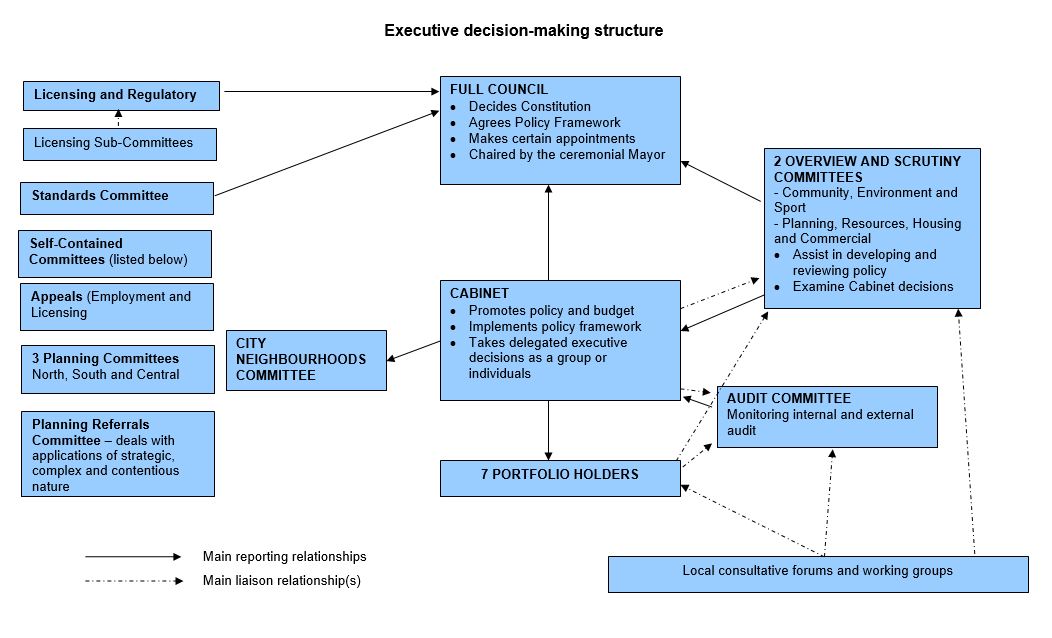 The Constitution
The Constitution sets out how the Council operates, how decisions are made and the procedures that are followed to ensure that these are efficient, transparent and accountable.
Overview and Scrutiny
There are two Scrutiny Committees who support the work of the Cabinet and the Council: the Planning, Resources, Housing and Commercial Scrutiny Committee and the Community, Environment and Sport Scrutiny Committee. The Committees take an overview of all the activities that the council is involved in and can decide to examine in depth (scrutinise) particular issues.
Reviewing policies, making suggestions for change and improvement and examining decisions made, are key aspects of Overview and Scrutiny. They can also 'call-in' a decision that has been made by Cabinet, but not yet implemented. This enables them to consider whether the decision is appropriate. They may recommend that Cabinet reconsider the decision.
Anyone can suggest a topic for Scrutiny to consider via email to: scrutiny@stalbans.gov.uk.
Community Safety Working Group
The Community Safety Working Group discusses priority issues in the Community Safety Plan. It reports annually or as needed to the Community, Environment and Sport Scrutiny Committee.
Annual Reports of the Council's Two Scrutiny Committees can be viewed here
Reports of Scrutiny Reviews undertaken in the past 5 years can be viewed here
Council departments
---
The Chief Executive's Board leads and manages the work of around 330 staff, and major contracts including for refuse collection, leisure, and grounds maintenance.
Chief Executive: Amanda Foley
Tel: 01727 819308
Email: Amanda.foley@stalbans.gov.uk
Responsibilities:
Managing the Council's political arrangements, leading the Council's employees and its work with partner organisations. Policy, Strategy, Democratic Services, Communications, Partnerships, Health, Community Safety, Economic Development, Emergency Planning, and Monitoring Office.
---
Deputy Chief Executive (Finance): Colm O'Callaghan
Tel: 01727 819200
Email: Colm.o'callaghan@stalbans.gov.uk
Responsibilities:
Financial Strategy, Budgets, Efficiencies, Accountancy, Revenues, Internal Audit and Fraud Investigation, Solicitor for the Council's office, Legal, and Land Charges.
---
Head of Community Services: Joe Tavernier
Tel: 01727 819472
Email: Joe.Tavernier@stalbans.gov.uk
Responsibilities:
Allotments, Cemeteries, Community Engagement, Inclusion and Equalities, Grounds Maintenance, Parks and Open Spaces, Young People, Markets, Waste Management, Street Cleaning, Sustainability, Car Parking, Parking Enforcement, Food Safety, Health and Safety, Noise Complaints, Pest Control, Licensing, Pollution Control.
---
Head of Commercial and Development: Tony Marmo
Tel: 01727 819268
Email: Tony.marmo@stalbans.gov.uk
Responsibilities: Leisure, Theatres, Museums, Procurement, Major Property Development, Identifying Commercial Opportunities, Sports and Arts Development, Property and Asset Management, Infrastructure, Building and Facilities Management, Building Maintenance.
---
Head of Housing: Karen Dragovic
Tel: 01727 819400
Email: Karen.Dragovic@stalbans.gov.uk
Responsibilities:
Overall Responsibility for the Management and Maintenance of Council Owned Housing, Housing Options and Policy, Fraud and Housing Benefits plus Private Sector Housing including Disabled Facilities Grants.
---
Head of Corporate Services: Simonne deVall
Tel: 01727 819660
Email: Simonne.devall@stalbans.gov.uk
Responsibilities:
Human Resources, Recruitment, Training and Development, Customer Services, Business Improvement, Performance and Risk Management, Information and Communications Technology, FoI Administration and Electoral Services.
---
Head of Planning & Building Control: Tracy Harvey
Tel: 01727 819300
Email: Tracy.Harvey@stalbans.gov.uk
Responsibilities:
Development Management Including Processing of Planning Applications and Building Control. Local Development Framework and Spatial Planning Including Design, Archaeology, Conservation, Landscape, Arboriculture, Transportation, Drainage and Project Implementation.
---