Mayoralty and Town twinning
Mayoralty
The Mayor is the elected Chair of the council and is the civic and ceremonial figure head for the council. The chain, badge and robes of office are an outward sign of this high office.
The Mayor is by statute the "First Citizen", which is an honorary title and means that the Mayor takes precedence over everyone, apart from a member of the Royal Family and the Lord Lieutenant. The Mayor must be non-political and represent every section of the community. Apart from the civic and ceremonial duties and functions that the Mayor performs for the council, he or she also represents the District at all major events and historical ceremonies.
The Mayor has an important role to play in promoting the work of the council and supporting local community, voluntary and charitable organisations, and in celebrating and recognising achievements and milestones.
The Mayor and the Mayor's Office welcomes your invitations, letters and feedback. Please be aware that the role of Mayor is ceremonial only and carries no decision-making powers. The role is entirely separate to that of elected councilor for their ward.
The Mayor 2023-24

Toggle accordion
The Right Worshipful the Mayor of St Albans City and District, Councillor Anthony Rowlands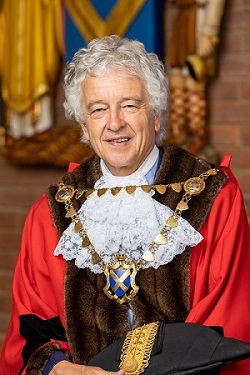 Cllr Rowlands was confirmed as Mayor at the Council meeting on 24 May 2023.
Anthony has been District Councillor since 1986 apart from a short three year break from 2003 to 2006.
He attended school on his native Isle of Wight before winning an Open Scholarship to read Modern History at The Queen's College, Oxford. He then studied for post-graduate qualifications in education at Churchill College, Cambridge and London University.
In the first phase of his career, he worked as a history teacher at a number of secondary schools including Haberdashers' Boys' School in Elstree.
The second phase of his career began in 2000 when he was appointed Director of Centre for Reform, later renamed CentreForum, a liberal think tank based In London.
Over the next 15 years, he held a series of senior positions within the organisation and helped establish its successor, the Education Policy Institute.
Anthony settled in St Albans in 1981 along with his late wife, Harriet, and the couple's two children who were brought up and educated in the City. He now has four grandchildren.
In addition to serving on St Albans Council, Anthony has been a Hertfordshire County Councillor for St Albans East since 2017 having previously represented St Albans North from 1993 to 1997.
He has also stood for Parliament on four occasions – St Albans (1997), Isle of Wight (2005), Hertsmere (2010) and Broxbourne (2015).
Anthony has served in a wide range of roles on the District Council and between 2019-22 was Lead Councillor for the Public Realm responsible for leisure services, museums, waste and recycling, parks, open spaces, cemeteries and parking. From 2015-20, he was the Council's first Mental Health Champion.
An active sportsman, he has completed over 20 marathons with a best time of 2 hours 48 minutes although he admits: "That was a long time ago."
He was a Hampshire Schools cricketer and is an MCC member. He is also a long-time supporter and season ticket holder of both Burnley FC and St Albans City.
His other interests include American history, modern literature and visiting historic churches.
His partner Annie Stevenson will be Mayoress for the year and accompany him on many of his official duties.
She is a policy expert in social care and recently gained a lifetime achievement award from NAPA (The National Activity Providers Association), a charity that supports care homes. She also set up Friends of the Jubilee Centre in St Albans and chaired the organisation for five years.
The Deputy Mayor

Toggle accordion
The Deputy Mayor of St Albans City and District, Councillor Josie Madoc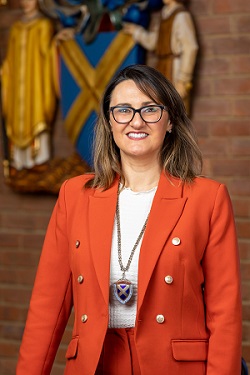 Cllr Madoc was confirmed as Deputy Mayor at the Council meeting on 24 May 2023.
Councillor Josie Madoc was born in St Albans Hospital in 1979 and has lived in the City ever since.
She was educated at St Albans & St Stephen Primary School and Loreto College before beginning a career in marketing.
Her various roles include working for St Albans Chamber of Commerce as well as some London-based companies. Her current job involves her commuting into the capital.
She has two teenage children with her husband Rhys Madoc who is also from St Albans and can often be found walking with her family and dog in Clarence Park.
Josie has dual Italian nationality with both her parents having emigrated to the UK from Sicily.
She became involved in local politics in 2019 through campaigning for more school places in St Albans back after her daughter struggled to find a place. She is also a District Mental Health Champion.
Mayor's Events

Toggle accordion
We maintain a diary of public events and appointments that have been attended by the Mayor. If you would like to invite the Mayor to an event you are managing, please use our contact form to make your request. Please note that the diary below is no guarantee of the Mayor's availability in the future.
Invite the Mayor to an event

Toggle accordion
If you would like to invite the Mayor to a function or event, please contact:
The Mayor's Parlour
District Council Offices
St Peter's Street
St Albans
Herts.
AL1 3JE
Email: mayoralty@stalbans.gov.uk
Tel: 01727 819544
Please download an invite form or use an eForm
History of the Mayoralty
The area now known as the City and District of St Albans was originally home to the Celtic Catuvellauni tribe. Their capital was at what is now Wheathampstead, which eventually fell under their leader, Cassivellaunus, to Julius Caesar in 54 BC. Within a century, the Roman colonisers had settled in what would be Verulamium, the third largest Roman town in Britain. Verulamium, now St Albans, was located a day's march or a half day's coach ride from London, making it an essential hub for travel to the north along Watling Street, now on the A5.
You can find out more about the history of the City and District at St Albans Museum + Gallery and Verulamium Museum.
The Church
Saint Alban, a Roman-British official who had converted to Christianity, was most likely martyred c. 250 AD, becoming the first British Saint. The site of his burial, as with many saints, became a place of pilgrimage for common people and nobles alike.
(Above: A depiction of the murder of St Alban. From Ralph of Dunstable, William of St Albans, Matthew Paris (early 13th-century), p. 82. Courtesy of Trinity College Dublin, University of Dublin https://digitalcollections.tcd.ie/concern/works/8p58pm63q?locale=en)
A Benedictine monastery was founded and dedicated to St Alban in 793 AD. After the Norman Conquest in 1066 Paul de Caen became the Abbot and he oversaw the rebuilding of the Abbey church. The Abbey was consecrated in 1115 in a ceremony attended by King Henry I and Queen Matilda. Ironically, the only British Pope, Adrian IV, was denied acceptance into the Benedictine Order at the Abbey in 1154. The Abbey ceased its functions in 1539 during Henry VIII's Dissolution of the Monasteries. The Abbey church continued to be used as a parish church by local residents and in 1877 it became a Cathedral for the newly formed Diocese of St Albans.
Every June the city celebrates St Albans Day with a large pilgrimage including giant puppets and colourful costumes. The procession travels through the centre of the city and finishes at St Albans Cathedral.
The Battles of St Albans
St Albans saw decisive battles in the War of the Roses, a thirty-year power struggle between the houses of York and Lancaster. This feud ultimately ended with the foundation of the Tudor Dynasty by the Lancastrian Henry VII's seizure of power at the Battle of Bosworth in 1485, and subsequent marriage to Elizabeth of York.
The two Battles of St Albans took place in 1455 and 1461. The first enabled Henry VI's kidnap, the second proving decisive in the coronation of Edward IV. Many road names around Bernard's Heath reference these major historic events, including Archers Field, Battlefield Road, and Lancaster Road. As in Roman Britain, St Albans has consistently proved itself to be a strategically important stronghold as a site of battle, of trade, and of piety.
The City and the Mayor
St Albans received city status in 1877 by Royal Charter issued by Queen Victoria. "The Right Worshipful" was added to the title of "The Mayor" which henceforth made the Mayor of St Albans the senior Mayor in Hertfordshire.
St Albans has had a Mayor for over 450 years, the first being John Lockey who came to office after the   town was granted a Royal Charter in 1553. During their tenure, the Mayor is the first citizen of St Albans. Some tenures have been cut short by the outbreak of war and death in office, whilst others have served for three consecutive years, as with William Balcombe Simpson, who served 1860-1862. Other famous St Albans Mayors include Samuel Ryder (1858-1936), known for giving his name to the Ryder Cup tournament.
(Above: Samuel Ryder in Mayoral garb, 1905. Courtesy of St Albans Museums' Collections https://collections.stalbansmuseums.org.uk/objects/51465)
Originally, the Mayor chosen by burgesses and mayors originally held Executive and Judicial Roles, unlike today. Today's mayoralty is ceremonial, with the central role being focused on representing the City and District Council locally, nationally, and internationally.
The official mayoral garments include a Chain of Office, red gown, and black tricorn hat. When wearing these the mayor is proceeded by a Mace Bearer carrying a silver-gilded mace, walking three steps ahead to protect the mayor. The last time the mace bearer needed to protect the mayor was during the Poll Tax protests in 1990.