Our people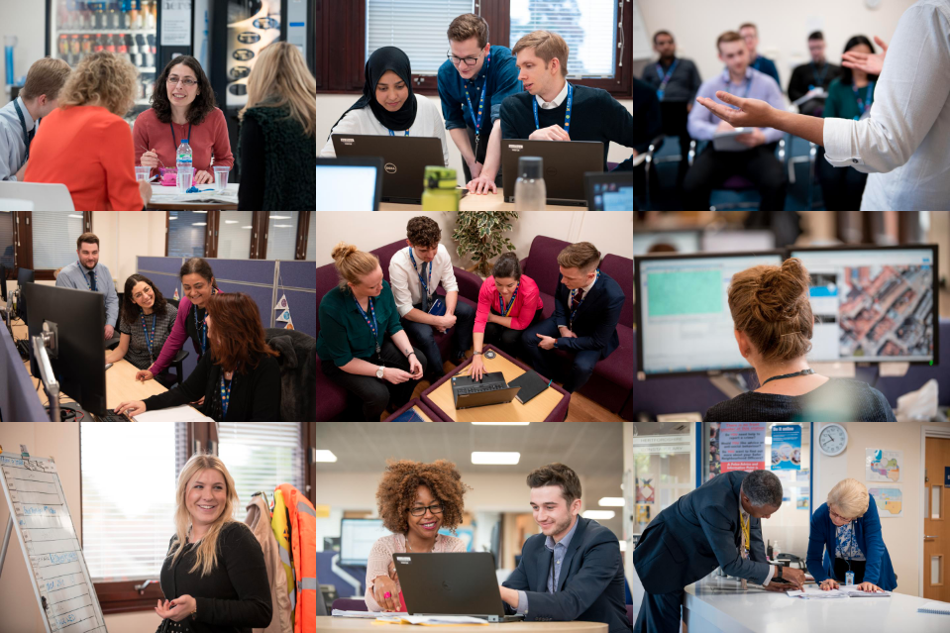 Meet our departments
There are many different roles and opportunities in our different departments and their service areas. Our services work together as one team to strengthen our customer focus. 
Find out more about each department.
Chief Executive and Policy

Toggle accordion
What does Chief Executive and Policy do?
"We're responsible for public health policy, where our priorities are around increasing physical activity and improving mental health in the district.
We're responsible for community protection, which means working with the Police and other agencies to try to keep the district safe.
We're also responsible for emergency planning - making sure the council in the first place is ready to respond to emergencies and secondly working with other organisations to make sure they are prepared.
We handle a lot of media calls and calls about case work – which is a good balance. One of our key roles is leading on communications for the council.
We also work very closely with elected councillors and our management board - supporting the political leadership and providing support for the various council committees.
Probably more so than any other departments, we work closely with external organisations working a lot through partnerships. A prime example is on economic development where we're working closely with local business, education and other partners."
What's it like to work there?
"We're a small department of a little over 20 people – but we're very busy."
"We're very, very business focused – working and responding to people whether that's the Chamber of Commerce, Federation of Small Businesses or individual businesses themselves. We have to understand their requirements."
Why work in Chief Executive and Policy?
"You're at the heart of what working at a council is all about. Negotiating the challenges of working in a political environment – balancing the demands of different political parties."
"What excites me is the opportunity to put central government policy into practice on the ground – as well as representing our local needs to influence national policy."
"Working with businesses is an opportunity to be part of the bigger picture for the area."
Commercial and Development

Toggle accordion
What does Commercial and Development do?
Commercial and Development is an exciting new department – launched in October 2017.
One of our current focuses is on developing further leisure, arts and cultural facilities in Harpenden. We've built three leisure centres in the last five years. We're now working to improve what Harpenden has and get a return on investment.
When we want to tender a contract, we have to do procurement work to competitively find the right contractor who will deliver the quality of service at a price that is right for us. By going through this tender process, we know we'll get the best for our residents.
The department also manages and monitors the contracts with providers who deliver our leisure services. We also provide a museums service which looks after the artefacts and history of St Albans as well as offering learning and engagement opportunities throughout the year.
"One of the department's highlights that we're really proud of was opening the fabulous St Albans Museum + Gallery in June 2018."
What's it like to work there?
"There is no average day for me. You don't know what you'll get coming through the door. As soon as you finish one project you move onto another."
"I think my favourite part of the job is working with the team we have here. They're such diverse people with diverse skill sets - that means we work well together."
Why work in Commercial and Development?
"It's enabled me to grow my career in an almost organic way. I started off in tourism are as an apprentice and then moved on to running the Town Hall as a venue hire business."
"A really varied role."
"By being part of this team, I've grown as a person and my career has grown too."
Community Services

Toggle accordion
What does the Community Services do?
What's Community Services' objective - well we haven't one single objective. It's one of the most diverse departments in the council.
So, it's making sure people get their bins collected on time and that people recycle as much as possible in the district.
It's making sure the grass is mown in the parks.
Looking after playgrounds and making sure the buildings the council owns are well maintained. And that the events we run are smooth and safe – as well as the chartered and many specialist markets.
And we're responsible for parking – from issuing parking tickets to managing car parks and residents parking. Making sure licensed businesses such as pubs and restaurants, and taxi drivers and vehicles are maintaining high standards is also part of our remit."
What's it like to work there?
"It has its challenges and we have tough days. But we have a working environment where we really support each other."
"I always say I have to enjoy where I'm working and to like the people I work with – they're like family actually."
Why work in Community Services?
"It's varied work and with services used by every resident in the district – as well as the many visitors."
"If you enjoy talking to people this is the department for you. You have to have good personal skills – you've got to be able to empathise."
"No one leaves school wanting to join the parking service – I stumbled into it many years ago. As I'm a resident in St Albans, when I saw this job came up it was a no brainer. I can see that this certainly is a council that really wants to meet the expectations of our customers and when you've got that kind of backing it makes you want to do the same as well."
Corporate Services

Toggle accordion
What does Corporate Services do?
Our purpose is to support the rest of the council to deliver excellent services to our residents and customers. We lead on customer services, IT, Human Resources, business improvement, Freedom of Information administration and Electoral Services.
Much of the work we do enables the rest of the organisation to work smoothly - providing the right ICT kit, the right people, training and development, data and support to make improvements.
Our residents will often know our services best for the work we do around elections. Sometimes there are more elections than we had anticipated! But we have an elections team that works like a well-oiled machine whether it's planned local elections, a snap general election or even a referendum!"
What's it like working there?
"The best part of working in Corporate Services is the people and teams. Everyone is welcoming, supportive and wants to help."
"We work hard to deliver what our customers need and we use humour to make sure the workplace is lively and fun, even when deadlines are looming and there don't seem to be enough hours in the day."
"Working across teams and sharing our skills across the council means we get to know everybody well and really get an understanding of what the council delivers."
Why work in Corporate Services?
"Working in the department has given me a great start to working in local government. I've gained a wide range of experience, the chance to get to know about different departments and of course, I've got to work with fantastic people."
"Being part of the team rolling out our new digital platform has been a fantastic opportunity to stretch myself. Working closely with departments, I've helped them to streamline services, using data to understand customers' needs and finding digital solutions to complex problems. I've picked up new technical skills and grown in confidence."
"I love the contact with customers – sometimes challenging, always varied – there's never a dull moment."
Finance and Legal

Toggle accordion
What does Finance and Legal do?
"It's a department with lots of specialist teams providing support to different parts of the council in different ways.
From providing legal help on contracts - to providing financial help with budgeting - to auditing services to make sure they are of high quality.
But we also have our external customers – we collect council tax and business rates, and provide land charges checks for people buying properties."
What's it like to work there?
"Put aside your preconceptions of a council support service – we're progressive in our approach and finding new ways of providing this support."
"As a Finance Business Partner you're working closely with senior managers. You're very much part of the department and involved in supporting strategy and decision making."
"It can be quite intricate work - calculating interest rates correctly to make sure we're getting the best deal for our residents."
"It's a department with a very positive outlook and a friendly group of colleagues."
Why work in Legal and Finance?
"Why – well it's a good place to develop your career. There are lots of examples of people who have taken their first professional steps with us. Currently we have someone who has just completed their apprenticeship with us and has now been taken on as a permanent finance assistant. We have a law graduate who joined on our summer internship scheme, was taken on permanently and supported to get her legal training. She now has training contract."
"We've got people here who've brought their skills to us from the private sector – and those who've used the skills they've gained with us to join the private sector."
"As specialists you have the opportunity to really get your teeth stuck into things. But we're small enough that you get exposure to a wider role and that means being able to make the most of your qualifications."
"The attraction for me is we are serving the public. It's good to know that what we do is to the benefit of the community and it's good to be rooted in the community."
"Working for a council gives you a unique exposure – working with councillors, attending committee meetings."
Housing

Toggle accordion
What does Housing do?
"What's the department all about - I'd sum it up as providing safe, secure housing for all residents in private and public rented accommodation.
From keeping our council housing well maintained - to working with private landlords so that their tenants have good quality homes - to helping people who are homeless find somewhere to live."
What's it like working there?
"People who work in Housing are passionate about what they do. You need to be to work here. We're helping the most vulnerable residents with very complex needs - it's challenging but very rewarding."
"It's a caring and welcoming culture – you'll be made to feel part of the team straight away. Because we're a team that takes people's welfare very seriously that's the way the team treat each other."
Why work in Housing?
"You can really see the difference you make to people's lives – from giving them a roof over their heads, to helping transform a poor-quality house into a comfortable home."
"The biggest reward for me is the appreciation you get from the people you help. You are making a tangible improvement to their lives."
"My favourite bits – I think the camaraderie with colleagues is always good."
"Feeling I'm making a difference socially. You get a sense of accomplishment from a job well done."
"Housing is a large department with lots of opportunities for movement. You get to build broad knowledge – not just of Housing - we work with other teams across the council, with landlords, with housing associations and other organisations."
Planning and Building Control

Toggle accordion
What does Planning and Building Control do?
"We're responsible for controlling the use and development of land for homes and buildings. Helping to deliver this are a wide range of professional and support staff.
The spatial planning team covers a range of specialisms in terms of dealing with day to day applications – from archaeologists, arboriculturists, landscape architects and planning policy, to conservation to listed building. And also roles in relation to the local plan itself."
What's it like working there?
"We're the busiest planning department outside London – with over 5,000 planning, tree and building control applications each year. Yes, that means a demanding workload – but having a supportive team around you helps."
"The best things about St Albans planning department is the team ethos. Everyone is always happy to help each other, share opinions and share experiences. It's a really great team atmosphere."
"We work hard but we play hard too. There's always a social opportunity coming up – from rounders, to quiz nights, to walking weekends."
"It's a vibrant scene – with a lot of young graduates and apprentices."
Why work for Planning and Building Control?
"It has given me the opportunity to work on varied projects, not just small extensions – that helps my development."
"It is a professional career and you have to get chartership – the council is very supportive in doing that."
"We're always recruiting! The team is growing to meet increasing demand. And our people are constantly moving as they develop their careers and move on to the next step. This means there are always opportunities to join us."
"There are lots of ways to build your career in the department and we have defined career pathways for those joining us from school or university."