Sponsor a tree
The Tree Sponsorship scheme, managed jointly by St Albans City and District Council and St Albans Civic Society, was re-launched in 2011 to mark the 50th anniversary of the Civic Society.
If you would like to sponsor a tree in memory of a loved one, in honour of an organisation or an event, you can choose a tree and a location from the table below showing where new trees are needed in parks and green spaces. To see the proposed position, just click on the tree reference number.
All sponsored trees listed for order by the end of September each year, will be delivered in one batch from the suppliers. They will be planted in the Winter season, which is the best time.
The cost will vary depending upon the tree and the suppliers' prices at the time of ordering but will also include the planting and all materials required to plant it and we provide two years dedicated maintenance with watering.
Examples: a Cherry is approximately £157 and a Maidenhair is approximately £231 (please note these figures are for guidance only). In the unfortunate event that a sponsored tree should die or be vandalised, the Council will replace it free of charge. An estimate can be given if you telephone the Council's Landscape and Trees Section on 01727 866100 or email at trees@stalbans.gov.uk. You may also reserve a specific tree for up to 14 days.
Please first read the Terms and Conditions and then use the application form below to register your interest. Please send to our Trees and Woodlands section.
Tree Sponsorship Book and web pages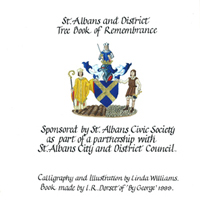 If you wish, an artist commissioned by the Civic Society will create a dedicated page in the Tree Sponsorship Book illustrating your chosen tree and including a short message or dedication, at no extra cost.
Selected pages of this book will be displayed in a case in the reception area of the Council offices. Any new pages, from September 2011 onwards, will be put on the Tree Sponsorship Book web pages (with your permission), so friends and relatives anywhere in the world can view it online.
Tree sponsorship book 2017-2018

Toggle accordion
Tree sponsorship book 2015-2016

Toggle accordion
Tree Sponsorship Book 2013-2014

Toggle accordion
Tree Sponsorship Book 2012-2013

Toggle accordion
Examples of past dedications in the Tree Sponsorship book

Toggle accordion
Trees available for sponsorship

Toggle accordion
| Location | Tree Reference | Species | Status |
| --- | --- | --- | --- |
| Bernards Heath | New | Shirotae Cherry | Sponsored |
| Clarence Park | AD000029 | Liquidambar (sweet gum) | Sponsored |
| Clarence Park | AD000030 | Euodia | Sponsored |
| Clarence Park | AD000031 | Cherry | Sponsored |
| Clarence Park | AD000032 | Prunus species | Sponsored |
| Clarence Park | AD000033 | Bird Cherry | Not available |
| Clarence Park | AD000034 | Field Maple | Sponsored |
| Clarence Park | AD000035 | Yew | Sponsored |
| Clarence Park | AD000036 | Copper Beech | Sponsored |
| Clarence Park | AD000037 | Purple Plum | Not Available |
| Clarence Park | AD000038 | Field Maple | Sponsored |
| Clarence Park | AD000039 | False Acasia | Sponsored |
| Clarence Park | AD698 | Monkey Puzzle | Sponsored |
| Clarence Park | AD000041 | Foxglove Tree | Sponsored |
| Clarence Park | AD000059 | Golden Rain Tree | Sponsored |
| Clarence Park | AD000064 | Magnolia | Sponsored |
| Clarence Park | AD000181 | Copper Beech | Sponsored |
| Clarence Park | 21222 | Golden Rain Tree | Sponsored |
| Clarence Park | Replacement | Amelanchier lamarckii | Sponsored |
| Clarence Park | New | Tibetan Cherry | Sponsored |
| Fleetville Recreation Ground | AD000042 | Hornbeam | Not available |
| Fleetville Recreation Ground | AD000043 | Rowan | Sponsored |
| Fleetville Recreation Ground | AD000044 | Whitebeam | Not available |
| Fleetville Recreation Ground | AD000045 | Sweet Chestnut | Sponsored |
| Fleetville Recreation Ground | AD000046 | Oak | Reserved |
| Fleetville Recreation Ground | AD000047 | Birch | Not available |
| Fleetville Recreation Ground | AD000061 | Swedish Whitebeam | Sponsored |
| Fleetville Recreation Ground | AD000061a | Swedish Whitebeam | Sponsored |
| Fleetville Recreation Ground | AD000062 | Birch | Sponsored |
| Longacre Open Space | AD000110 | Cherry species | Sponsored |
| Longacre Open Space | AD000111 | Cherry species | Sponsored |
| Longacre Open Space | AD000112 | Field Maple | Sponsored |
| Longacre Open Space | AD000113 | Rowan | Sponsored |
| Longacre Open Space | AD000114 | Turkish Hazel | Sponsored |
| Longacre Open Space | AD000115 | Birch | Sponsored |
| Longacre Open Space | AD000116 | Birch | Sponsored |
| Longacre Open Space | AD000117 | Birch | Sponsored |
| Longacre Open Space | AD000118 | Hawthorn | Sponsored |
| Longacre Open Space | AD000119 | Plum (Bullace) | Sponsored |
| Parva Close | AD000196 | Crab Apple | Not available at present |
| Parva Close | AD000197 | Crab Apple | Not available at present |
| Parva Close | AD000198 | Cherry species | Not available at present |
| Parva Close | AD000199 | Purple Plum | Not available at present |
| Rothamsted Park | 0001099 | Birch | Sponsored |
| Rothamsted Park | AD000133 | Copper Beech | Sponsored |
| Rothamsted Park | AD000134 | Sweet Chestnut | Sponsored |
| Rothamsted Park | AD000135 | Beech | Sponsored |
| Rothamsted Park | AD000136 | Sessile Oak | Sponsored |
| Rothamsted Park | AD000137 | Whitebeam | Sponsored |
| Rothamsted Park | AD000138 | Walnut (black) | Sponsored |
| Rothamsted Park | AD000143 | Almond | Not available at present |
| Rothamsted Park | AD000144 | Pear species | Not available at present |
| Rothamsted Park | AD000145 | Holm Oak | Sponsored |
| Rothamsted Park | AD000171 | Horse Chestnut | Sponsored |
| St Stephens Hill | AD000088 | Oak | Sponsored |
| St Stephens Hill | AD000089 | Winter Flowering Cherry | Sponsored |
| St Stephens Hill | AD000090 | Rowan | Sponsored |
| St Stephens Hill | AD000091 | Oak | Sponsored |
| St Stephens Hill | AD000092 | Alder species | Reserved |
| St Stephens Hill | AD000093 | Alder species | Reserved |
| St Stephens Hill | AD000094 | Alder species | Reserved |
| St Stephens Hill | AD000095 | Oak | Sponsored |
| St Stephens Hill | AD000096 | Cherry species | Reserved |
| St Stephens Hill | AD000097 | Birch | Sponsored |
| St Stephens Recreation Ground | AD000048 | Plum (Bullace) | Sponsored |
| St Stephens Recreation Ground | AD000049 | Acer Species | Reserved |
| St Stephens Recreation Ground | AD000050 | Sessile Oak | Sponsored |
| St Stephens Recreation Ground | AD000051 | Swedish Whitebeam | Reserved |
| St Stephens Recreation Ground | AD000052 | Birch | Reserved |
| St Stephens Recreation Ground | AD000053 | Aspen | Reserved |
| St Stephens Recreation Ground | AD000054 | Hornbeam | Sponsored |
| St Stephens Recreation Ground | AD000055 | Ash | Sponsored |
| St Stephens Recreation Ground | AD000056 | Copper Beech | Sponsored |
| St Stephens Recreation Ground | AD000063 | Crab Apple | Reserved |
| Verulamium Park | AD000065 | Willow species | Sponsored |
| Verulamium Park | AD000066 | Atlas Cedar | Sponsored |
| Verulamium Park | AD000098 | Willow species | Sponsored |
| Verulamium Park | AD000099 | Willow species | Sponsored |
| Verulamium Park | AD000101 | Aspen | Sponsored |
| Verulamium Park | AD000102 | Aspen | Sponsored |
| Verulamium Park | AD000103 | Alder species | Sponsored |
| Verulamium Park | AD000104 | Alder species | Sponsored |
| Verulamium Park | AD000105 | Hybrid Larch | Sponsored |
| Verulamium Park | AD000170 | English Oak | Sponsored |
| Verulamium Park | AD000182 | Acer species | Sponsored |
| Verulamium Park | AD000183 | Acer species | Sponsored |
| Verulamium Park | AD000485 | Alder species | Sponsored |
| Verulamium Park | AD000571 | Crab Apple | Sponsored |
| Verulamium Park | AD000572 | Lime | Sponsored |