South West Hertfordshire Joint Strategic Plan
Neighbouring authorities are increasingly being encouraged to work together to provide the homes, jobs and infrastructure where people want to live.
Along with Dacorum Borough Council, Hertsmere Borough Council, Three Rivers District Council and Watford Borough Council are preparing on a Joint Strategic Plan (JSP) for the South West Hertfordshire Area (see map below).
The Joint Strategic Plan (JSP) will provide a long-term blueprint for the area to 2050. It will be able to consider and address issues that cross council boundaries and set out a strategic vision for the area. It will also help guide future plans and strategies by setting out high level policies on topics such as climate change, infrastructure, environmental protection, employment and housing.
By working together, the Councils are confident they will be in a stronger position to deliver, and better fund, essential local transport links, health services and educational facilities that local people want to see.
Each council will still be responsible for preparing their own Local Plan, but a Joint Strategic Plan will be the first critical stage in local planning across South West Hertfordshire, setting the strategic framework and shared priorities within which individual local plans can be prepared.
Please refer to the South West Hertfordshire Joint Strategic Plan website swhertsplan.com for more information. The website provides information about the background to the Joint Strategic Plan and its progress. It will also allow you to share your ideas with us so together we can plan for the future of the area.
Area to be covered by the Joint Strategic Plan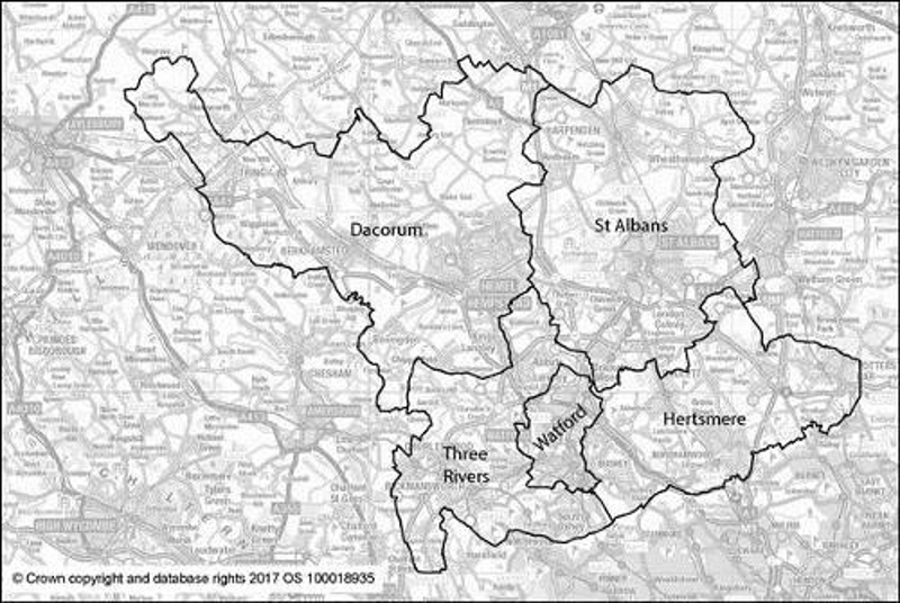 Agendas, Reports and Minutes
Governance
As part of progressing this work, the Councils have agreed the following updated governance arrangements:
Sustainability Appraisal Scoping
Sustainability Appraisal is a legal requirement of the plan-making process. Sustainability Appraisal is a process to assess the social, environmental and economic impacts of a Plan and is required under the Planning and Compulsory Purchase Act 2004, and the Environmental Assessment of Plans and Programmes Regulation 2004.
Statement of Community Involvement (draft)
Public and stakeholder engagement will be a very important part of preparing the Joint Strategic Plan. The Statement of Community Involvement (SCI) sets out the broad approach the councils will take to engagement at different stages of plan preparation.
Public Consultation on the South West Hertfordshire Joint Strategic Plan
 **consultation now closed** 
Consultation on the 'South West Hertfordshire 2050 - 'Realising our Potential' – ran from 5th September to 4th November and is now closed. This consultation asked for feedback on a draft vision and objectives for South West Herts to 2050.   
More than 3,000 people took part and the JSP team will be going through comments and feedback over the coming months before preparing a consultation report. Thank you to everyone who took part.
Please keep an eye on the website www.swhertsplan.com or follow the JSP on LinkedIn at www.linkedin.com/company/swhertsjsp for updates.